YMCA Aquatics - Sailing Program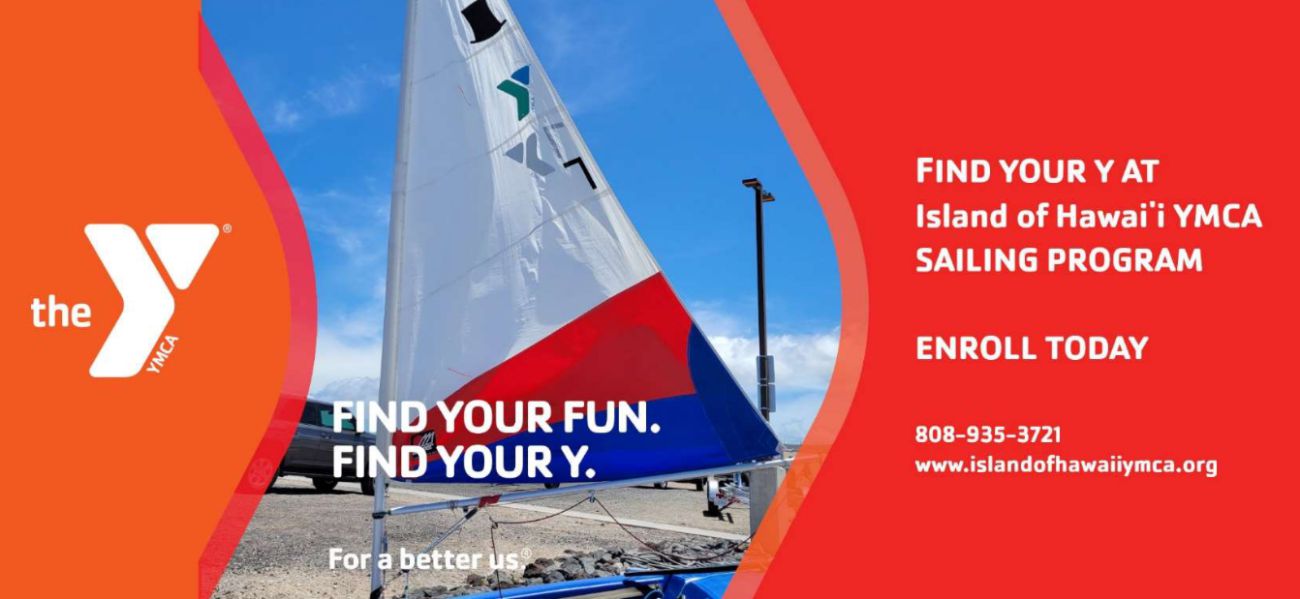 Learn sailing, seamanship, and water safety from our sailing club located in Kawaihae. Open to ages 10 and up!

YMCA supports a program to instruct both youth and community members in sailing small boats. It is our goal to build a program which serves the community and expands recreational opportunities in Kawaihae.
If you are in need of financial assistance for YMCA youth programs please download and complete the form below.
Sailing Classes
YMCA sailing classes feature formal instruction to teach new sailors the basics of sailing, safety, teamwork, and boat handling. We host several courses, including:
Beginner's Youth Sailing
Intermediate Youth Sailing
Introductory Adult Sailing
Summer 2023 Sailing Class Schedule
For children ages 10 - 17. Sailing classes are $250 for the 4 day session. Only one (1) session is needed to complete the class, we offer multiple sessions to accommodate limited class sizes.  All sessions start at 9am and end at 2pm.  Each session will be limited to 10 participants.  All participants will be tested on their ability to swom at least 50 yards on their first day of the program.
Register your sailor today!  Spaces are limited.
Beginner's Sailing
Session 1:     Beginner's Sailing – June 12-15
Session 2:     Beginner's Sailing – June 19-22
Session 3:     Beginner's Sailing – June 26-29
Session 4:     Beginner's Sailing – July 3, 5, 6, 7
Intermediate Sailing
Session 1:     Intermediate Sailing – July 10-13
Session 2:     Intermediate Sailing – July 17-20
We are seeking volunteers to assist the instructors with some of the logistics during the day such as set up for shoreside, boat launch retrievals and additional hands where needed.
The sailing program is designed to be fun, social and engage young sailors who will learn water and watercraft safety, basic sailing terminology and principles, wind and weather conditions, basic knots, rigging their boats and individual sailboat handling.  We will be using El Toro Dingys, Toppers and Lasers for instruction.  Each sailor will advance at their own speed.
Community Sailing Program
Community Sail Days will be the second Saturday of each month beginning Nov 12, 2022.  Sailors who have completed a sailing course or demonstrated their ability to rig a boat and sail independently are given the opportunity to use the YMCA boats recreationally. This expands opportunities for Aquatic recreation in Kawaihae Harbor, builds a volunteer base to support the sailing community and activities in the future, and provides an opportunity for students to continue developing their sailing skills and confidence in a safe environment.
Community Sailing Members will have access to the YMCAs Toppers, Lasers, Kayaks and SUP located in the boat yard.  There is no sailing instruction and children under the age of 16 must be accompanied by an adult as there is no supervision during these sail days.  Life jackets will be provided to members who are 10 and over.   Any member who is under the age of 10 must have their own personal life jacket and may only be on the water with an adult.  Members will use the equipment at their own risk.
Membership in our Community Sailing Program is $120/year per household.  A household is defined as 3 adults and 3 children (ages 10 – 17).  Additional children (ages 10 – 17) will cost an additional $13 per year for each additional child for membership to the Community Sailing Program.  An active YMCA lifetime membership is required.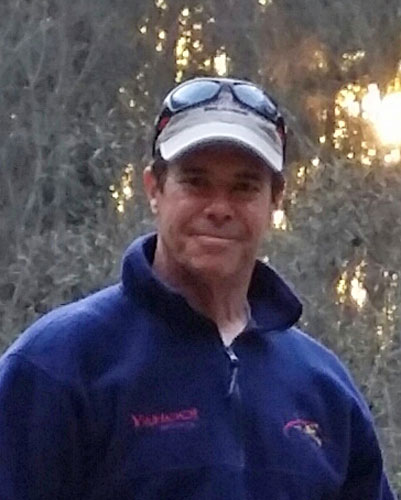 Neil Barth
YMCA Sailing Instructor
I have been a lifelong sailor since the age of 8. Growing up in Midwest sailing programs on the Great Lakes, I raced competitively in sailing programs through college (Notre Dame) and Medical School. I started in Sabots and went on to own and race competitively in Thistles, OK Dingy, Lasers, Fireball, Flying Junior, 420, Int 470, Finn.  I worked after school and weekends for a local sailmaker in Cleveland starting from age 12 to 26 where I learned all aspects of sailmaking from handwork to design. That experience opened innumerable ocean racing opportunities including: 3 trans-Atlantic's, 6 Bermuda Races, 6 SORC circuits, and multiple years of regattas and long-distance races on the Great lakes
After relocating to California for my medical internship and residency, I began a 40-year avocation of big boat ownerships including an Olson 30, J-44, Andrews 53, ILC 40 and 2 Volvo 60's including Yamaha (Whitbread Round the World Winner '93-'94).and America's Challenge (Volvo Ocean Race '97-'98). In addition to years of racing in So Cal, San Francisco Bay, and Mexico I have completed 4 Trans-Pac races, won overall honors in the Hawaiian Kenwood Cup '94 US Red Team, and the San Diego to Tahiti Race. All of this culminated in the Volvo Ocean Race ('97-''98).
Sailing has provided the motivation for learning self-sufficiency on the water. I have acquired skills in boat maintenance and repair, sailmaking, electronics, and navigation. Today, I am a recently retired medical oncologist, husband, and father of 6 children, and 4 grandchildren. I love and appreciate kids and the learning process. I am excited to connect with our community through the YMCA sailing venue and to help build a program that will spark an interest in sailing, seafaring, and life skills.
A Brief History of the YMCA Sailing Program
In 1994, a small group of sailors got together with the vision of creating a youth sailing program at Kawaihae for North and Kohala. We partnered with YMCA and connected with Guy Fleming, Youth Program Director at Waikiki Yacht Club and Regional Instructor Trainer for U.S. Sailing. Guy came over and taught an instructor course for us at the Kona Sailing Club.
1994 was the first year of sailing at Kawaihae, using two Lasers rescued from the boneyard at Mauna Kea Beach Hotel. We obtained a permit to operate at a small yard on the outside of the Army fence at the Kawaihae Harbor LST ramp. In 1995 we even built a 16 foot power skiff at the former wood shop at Waimea Middle School. Guy Fleming came to teach another course in 1996, this time using the Kawaihae Terminals meeting room for classroom work.
In 2001, we obtained a permit to operate at the unfinished Kawaihae South Small Boat Harbor, where we dedicated a proper facility, funded by Fritz Jewett and Weyerhauser Corporation, and built completely by volunteers. A full range of sailing , seamanship, and water safety courses, including sailing outrigger canoe training, were offered until approximately 2005.  The facility was maintained by volunteers in the interim. Prior to the completion of the new small boat harbor, we were required to move to our present location, and youth sailors learned new skills, those of launch and recovery of boats in the old Hawaiian style. With the new harbor, we now have a double launch ramp for the future.